RCL40: Recollection, Reinvention and HP Calculators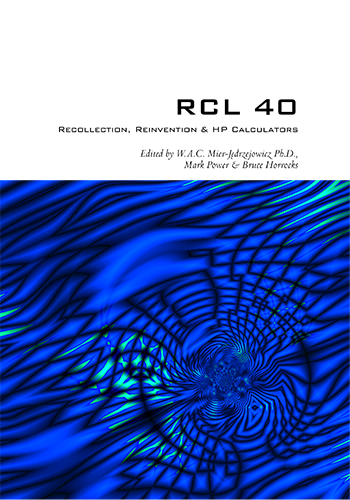 HPCC celebrated its 40th Anniversary in 2022. 20 years since the publication of RCL20: People, Dreams & HP Calculators we once again wanted to celebrate our continuing enthusiasm for HP calculators and pocket computers, and reflect on not just the most recent 20 years and the amazing things that have happened, but recollect earlier times.
RCL40, published in time for the HPCC 2022 40th Anniversary Conference, includes stories from some of the people at HP who designed the calculators we cherish, as well as from club members and people around the world who have devised modern components to keep alive our curiosity and enhance our machines way beyond their original life expectancies.
How to buy RCL40
Update 22nd November 2023: Unfortunately the first print run of RCL40 has sold out. We are working with our printer on a second print run.
How to buy RCL20
RCL20 is available (again) to purchase online.
URLs
RCL40 contains references to URLs as explained on page vii, with the URLs themselves listed on page 249. We expected that over time these URLs would become out of date and indeed URL15 changed within a week of the book being printed. The most recent known web locations for the URL references in the book are shown in the table below.
Contents
RCL40 is split into four sections, along with an introduction, editor and contributor biographies, plus a comprehensive index.
Recollections
RCL+20
Włodek Mier-Jędrzejowicz
The Naissance of the 3rd Generation
William C. Wickes
My Walk Along the Hall of Fame
Jim Donnelly
Single Chip Series 10
Chuck McCord
My Memories of the HP12C
Cyrille de Brébisson
HP-20B / HP-30B / HP-40B
Gene Wright
How HPCC Helped Me
Marc Staps
How User Groups Influenced Hewlett-Packard
Richard J. Nelson
Friendly Competition
Dejan Ristanović
A Journey With Programmable Calculators
Mark Power
My Experience with the HP 41C
Edward Shore
Digital Archaeology
The Museum of HP Calculators
Dave Hicks
Archiving the HP Handhelds User Groups
Jake Schwartz
hpcalc.org
Eric Rechlin
hp41.org
Warren Furlow
Reverse Engineering & Repairing Handheld & Desktop Calculcators
A. R. Duell
The Calculators That Wouldn't Die
Forty Years of the HP-41
Mark Power
The Story of The HEPAX Module
Steen Petersen
MLDL2000
Meindert Kuipers
About Clonix and NoVRAMs
Diego Díaz
Creating the 41CL Calculator
Monte Dalrymple
Next Generation Modules for the HP-41 Platform
Ángel M. Martin
Multimod Project
Mark A. Fleming
HP-IL and Me
Jean-François Garnier
Re-invention
25 Years of Calculator Emulators
Christoph Gießelink
SwissMicros
Bruce Horrocks
NewRPL – A New Version of a Classic
Claudio Lapilli
A Little History of WP Calculators
Walter Bonin
Page Last modified: 22nd November 2023